Regular price
Rs. 1,999.00
Sale price
Rs. 599.00
Unit price
per
Sale
Sold out
This beautiful artificial jewellery set is crafted using high-quality materials to create a stunning and unique look. The necklace is made from a brass alloy with an antique gold plating, which gives it a vintage feel and makes it perfect for pairing with both traditional and modern outfits. The antique gold plating adds a touch of elegance to the piece, making it stand out from other necklaces.
The necklace has a total length of 10 inches, with 5 inches on both sides. The length is perfect for creating a statement piece that will grab attention wherever it's worn. The necklace is designed to sit beautifully on the neck, making it an ideal accessory for any outfit.
The width of the necklace is 35 mm, which includes the bead drops. The intricate beadwork adds texture and depth to the necklace, making it even more visually appealing. The beadwork is expertly crafted to ensure that each bead is perfectly placed, giving the necklace a cohesive look that is both eye-catching and timeless.
A back adjustable rope is attached to the necklace to ensure a comfortable fit. This allows the wearer to adjust the necklace to their desired length, making it perfect for any occasion. The adjustable rope also makes it easier to wear the necklace with different outfits, ensuring versatility and practicality.
It's important to note that chemicals and perfumes should be avoided when wearing this artificial jewellery. This will help to prevent damage to the necklace, ensuring that it retains its beautiful and unique appearance.
Overall, this artificial jewellery set is a stunning piece that will add a touch of elegance and sophistication to any outfit. Its intricate beadwork, antique gold plating, and adjustable rope make it a versatile accessory that can be worn on a variety of occasions. The quality materials used in its construction ensure that it is durable and will last for years to come.
Shipping & Delivery

Standard Shipping 2-4 Business days. 

Please note that the above time does not include the time for processing the order.

Most orders ship within 2-4 days of the placing order. While this is not guaranteed, in rare cases an order might ship beyond 5 days from the placing order.

For rush orders contact us at +918355959797 or email care@Lookethnic.com.

We will email you the tracking details once the order is shipped. It is the customer's responsibility to track the package and contact the courier company for any delays. if courier company not supported, please contact us.
Product Returns

Customer satisfaction is of the utmost importance to us. If you are not happy with your purchase, you can return your items within 2 days of delivery. Here are key points to note to make your return smoother.

Please submit return/ exchange request to care@Lookethnic.com. within 2 days of your purchase. or https://www.lookethnic.com/pages/returns-refunds-and-replacement

We try our best to deliver products in the right conditions by multiple quality control checks. In a very rare case, a defect may pass unnoticed. In such a case, please email us (care@Lookethnic.com) the details with the product picture as soon as you receive your order

Please allow 10-15 days to process the return
Payment Protection

If you don't receive the item that you ordered, or it shows up significantly different from its description, you may qualify for Purchase Protection, and we'll reimburse you for the full purchase price plus any original shipping costs, subject to terms and limitations. If you are charged for a transaction that you didn't make, let us know ASAP, and we've got you covered. 
Have Questions?

If you have any queries, feel free to get in touch with us at any time of the day. We respond to every email we receive within 48 hours. We are available Lookethnic@Gmail.com | Care@Lookethnic.com.
Care Instructions

You can use your jewelry whenever required. But while unused, please maintain it inside a plastic box or zip lock covers. Any moisture or sweat should be properly wiped off before preserving inside.

Perfumes and deo spray or body and hair spray are real enemies for immitation jewellery. How well your jewellery may look with the plating, it doesnt matter. A single spray of these perfumes are good enough to instantly spoil the look and colour of the jewellery or shorten the colour life. Please avoid using these chemicals or cleaning agents when you use immitation or gold plated jewellery.
Share
View full details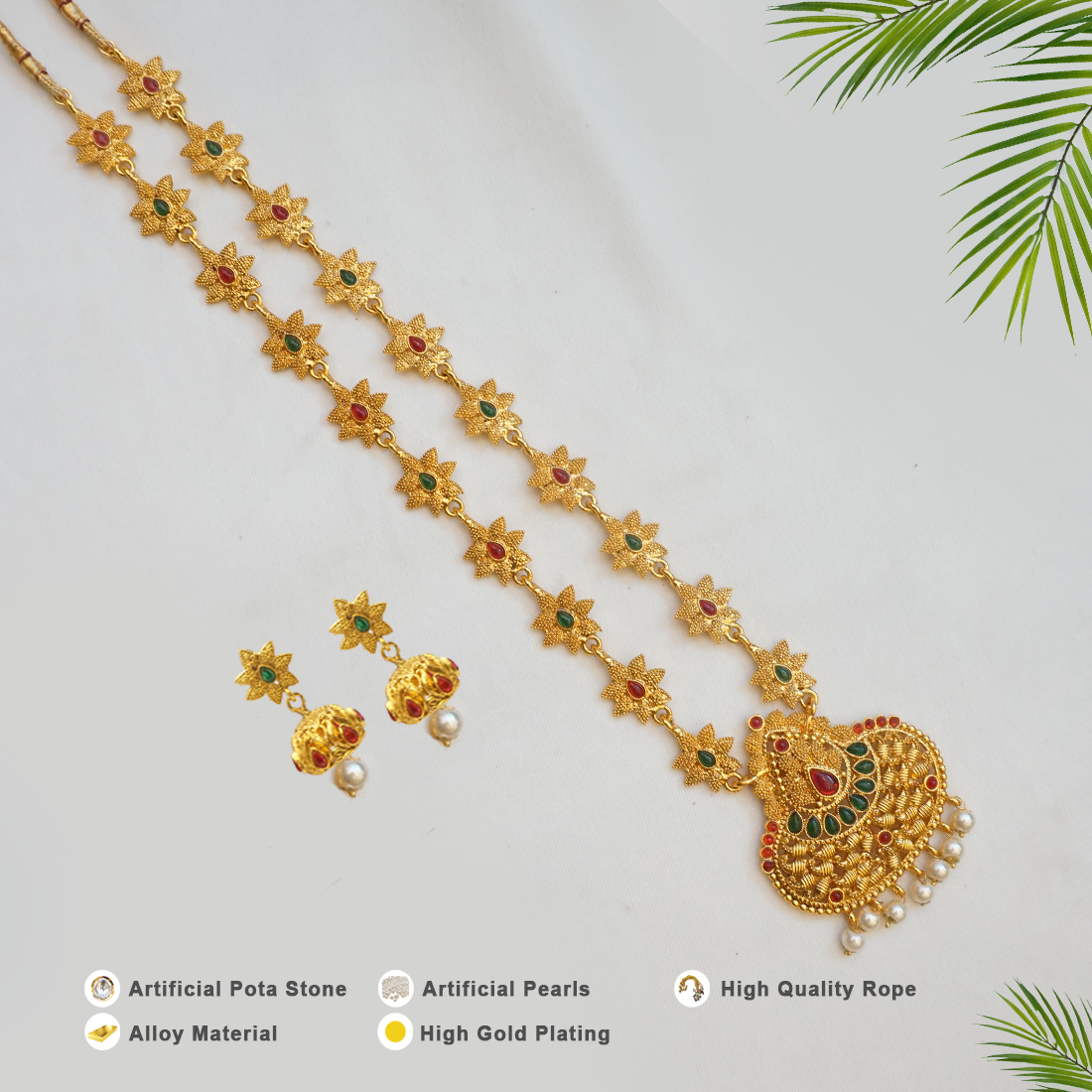 Distinctive Charms of Look Ethnic
Handcrafted Heirlooms

Discover LookEthnic's blend of ancient skill and modern style.

Supporting Local Art

Empowering local artisans, celebrating India's craft heritage.

Proudly Indian

Exclusive range reflecting India's rich culture and grace.

Tradition Trends

A blend of traditional craftsmanship and modern trends.
Reasons to Shop With Lookethnic
Happy Customers

Over 150,000 Satisfied Customers

Easy Returns

Hassle-Free 7-Day Return Policy

Quality Assured

Premium Quality Only the best for you.

Secure Checkout

Shop safe & securely every time
Crafted By LookEthnic
Adorn yourself with pieces that echo the ethos of India, celebrating the vibrant tapestry of our culture. Share your LookEthnic moments on Instagram and let the world witness the tradition that binds us together.
Choosing a selection results in a full page refresh.
Opens in a new window.